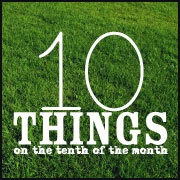 This month's 10 on the 10th captures 10 moments of this summer that I want to remember.
Always.
I want to remember how blessed I am to witness the bgeinnings of a deep friendship between the daughters of two of my best firneds. There is something beautiful and meaningful in the continuity and interweaving of mothers and daughters.
I want to remember how lucky I am to have such a wonderful mother. I'm totally enjoying watching her with her grandchildren. My only child recently graduated fromhigh school. When he was younger, I was too overwhelmed with struggling to find my own parenting style and too insecure to appreciate all the insight that my mother had to offer. My brother and his wife married young but waited several years to have children. I love how relaxed I am with my niece and nephew. I can see now how amazing my mother is - and was - with children.
I want to remember all the warmth, laughter, adventure, exploration, giggles, hugs and love that we shared with Jim's sister and family.
Good times.
I want to remember the scarifices made by all of the servicemen and servicewomen so that I can live in a country where I am free.
I want to remember how wonderful it is to have a group of women friends who exemplify everything that is right about being a woman.
I want to remember how much I love this young man, how scared I am about the changes coming our way and how hard it is to let go...
I want to remember how much I adore this man. He is my everything.
I want to remember the free and easy feeling of relaxing by the pool. I want to remember that I had the courage to put on a swimming suit, even when I thought I was too fat. I want to remember how cleansing it feels to dive into the cold water. I want to remember going off the diving board and doing handstands under the water.
I want to remember experiencing the magic of the musical Wicked with these fabulous people.
I want to remember the sounds of a ballpark in the summer.
What do you want to remember this summer?
PS If you want to see more 10 on the 10th, check out
Shimelle's
blog
here
.